Headquartered in beautiful Western Michigan, Medbio is a certified ISO 13485:2016 contract manufacturer.
Our headquarters includes three facilities totaling 115,000 square feet. Our cross-functional facility contains Engineering, Quality, and Manufacturing departments, along with all our business support departments. Medbio has recently joined forces with Caplugs Medical to bring you 17 global locations and expanded capabilities to solve your greatest challenges. We have dedicated facilities for silicone, diagnostics, and more!
Medbio is now partnered with Caplugs Medical for a combined 17 global manufacturing facilities. Trusted by over 1500 medical customers and the top 30 medical device manufacturers, we offer the most comprehensive range of medical molded solutions and capabilities in the marketplace. 
Our facilities were designed and built to meet the high standards of medical and biotech device manufacturing. We have over 100 molding presses ranging in size from 17 ton to 440 ton, contained in an ISO Class 8 certified cleanroom and a micro-molding presses contained in a modular, ISO Class 7 certified cleanroom. Our headquarters alone contains four modular, ISO Class 7 certified cleanrooms for assembling and packaging finished products.
Cleanroom & Micro-Molding Presses
Medbio continually invests in the latest molding technologies and assembly techniques to stay ahead of the competition. Please schedule a visit to Medbio to tour our facility and meet the team. We are proud of what we have built.
Our experience, facilities, equipment, tooling, and process control capabilities allow Medbio to provide consistent quality and value to our customers.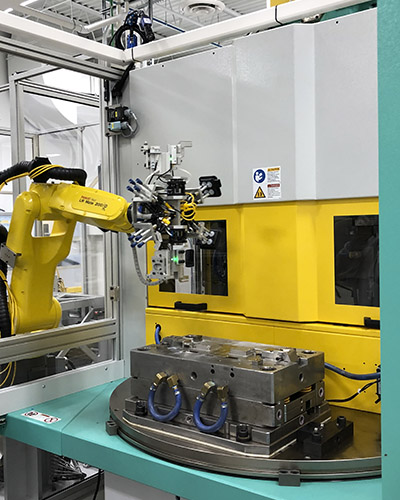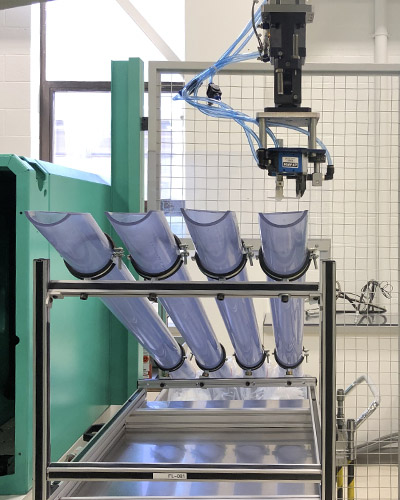 Innovative Problem Solving
We take pride in our best-in-class manufacturing capabilities, customer service, program management, aggressive turnaround times, and innovative problem solving. Whether surpassing our customers' expectations in bringing new products to market, or improving manufacturability and part quality on transfer business, Medbio excels in providing solutions for today's contract manufacturing challenges.
Get Help with
Your Next Project
Medbio is an ISO 13485:2016 certified full service contract manufacturer.
Tell us what help you need with your next molding, assembly, and packaging project.