Medbio strives to provide premier contract manufacturing services to the medical and biotechnology industries.
Discover exciting medical device career opportunities with Medbio and become a part of our talented team. Start making a difference today. 
In addition to the constant bettering of our manufacturing operations, Medbio is dedicated to achieving the highest level of employee satisfaction. We achieve this by creating a work environment for our associates that encourages individual development, while providing opportunities to share ideas and cultivate teamwork.
Interested in Working for Medbio?
View our job postings below and if you are interested in a career at Medbio, complete the online application or email us your resumé and cover letter.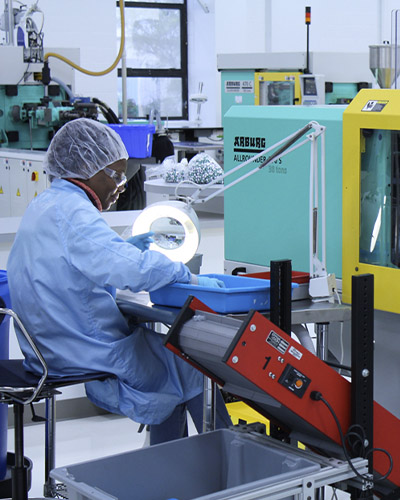 Responsible to assist the Shipping Clerk in maintaining organization, cleanliness and upkeep of warehouse, physical distribution (shipping/receiving and transportation), staging of production materials, inventory management (raw materials, components, packaging and finished goods), following safety practices and collection of data to analyze performance and continuous improvement.
The Automation Technician will work with the engineering and production teams in support of automation, robots, vision systems, EOAT, fixtures and related equipment. This position will provide and support production with design, integration, troubleshooting, programming, repairs and maintenance of all automation equipment.
The Set-Up Technician I will support the production efforts at Medbio in setup of production jobs while maintaining reasonable efficiencies, minimizing tool damage/wear while practicing and enforcing safe work procedures.
The Quality Inspector I (QI I) is responsible for the inspection and release activities for all manufactured products. The QI I will assist with activities that support the manufacturing of components and finished goods. A Quality Inspector I typically works with a more experienced member of the lab staff.
The Manufacturing Engineer will support Production, Project Engineering and Process Engineering functions, as they relate to injection molding and/or assembly projects for the company. Additionally, this position will ensure that all documents or practices follow the Quality Regulatory objectives of Medbio, LLC.
The Machinist performs a variety of tasks involved with preparing and finishing mold components using manual and CNC machinery. Duties include taking guidance and direction from the Shop Foreman and assigned Mold-Maker.
The Mold-Maker Apprentice performs a variety of tasks involved with learning and understanding the duties required to become a lead Mold-Maker. Duties include taking guidance and direction from the Shop Foreman and assigned Mold-Maker.
The Customer Support Specialist position will be responsible for outstanding customer service, manufacturing, and warehouse support. In addition, this position will support special projects for other departments as needed.
Responsible for part production; molding, assembly, and inspection of all product produced. The selected candidate will have excellent vision, hand eye coordination, dexterity, and analytical skills with a high focus on organization, cleanliness, ability to follow procedures, and quality of work.
The Mold Maker performs a variety of tasks involved with selection and operation of machines and tooling as well as set ups for machining of components for molds. Duties also include evaluation and execution for Repair or PM of molds. Manage and complete mold builds while working closely with Engineering and all other departments.