Medbio strives to provide premier contract manufacturing services to the medical and biotechnology industries.
By leveraging the latest technology and production equipment, Medbio is able to provide innovative manufacturing solutions and maximize customer satisfaction.
In addition to the constant bettering of our manufacturing operations, Medbio is dedicated to achieving the highest level of employee satisfaction. We achieve this by creating a work environment for our associates that encourages individual development, while providing opportunities to share ideas and cultivate teamwork.
Interested in Working for Medbio?
View our job postings below and if you are interested in a career at Medbio, complete the online application or email us your resumé and cover letter.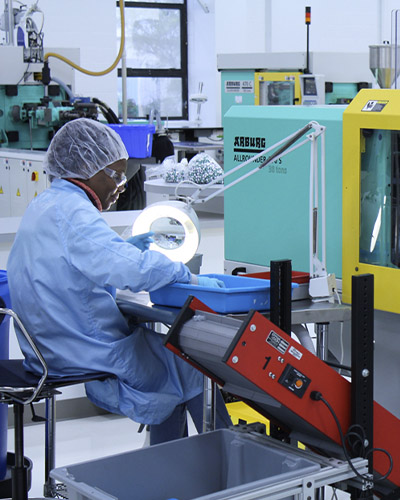 The Quality Engineer II (QE II) is responsible for quality activities in support of Production and Engineering activities at Medbio. The QE II is responsible for quality management system activities, including maintaining compliance to ISO/FDA requirements. The QE II is a mid-level engineer that requires some guidance and is able to lead some activities.
Responsible for prescribed maintenance on equipment, troubleshooting issues on the production floor as well as installation new equipment and fixtures. This position is also responsible for repairs to equipment and fixtures as needed.
The Molding Automation and Continuous Improvement Engineer will provide a strategic role in increasing the effectiveness and profitability of the Molding Department by quoting, implementing, and maintaining industry leading production solutions.
The Process Technician will support the production efforts at Medbio, LLC. in the staging of tooling and startup of production jobs while maintaining reasonable efficiencies, minimizing tool damage/wear, and preserving the safety of all viability. Support of engineering development and corrective/preventative action efforts are required as necessary.
Responsible for running an assembly cell to a specific cycle time and maintaining the quality of parts and components to meet customer requirements. Responsible for scrap, cell efficiencies, safety, product packaging and correct product labeling.
The Quality Inspector I (QI I) is responsible for the inspection and release activities for all manufactured products. The QI I will assist with activities that support the manufacturing of components and finished goods. A Quality Inspector I typically works with a more experienced member of the lab staff.
The Set-Up Technician I is an entry level position for the set-up of machinery, molds, and associated equipment at Medbio. This role will provide direct support to mold changes on a daily basis.
The Molding Process Technician is a cross functional resource for daily activities at Medbio. This role will primarily provide support for the start-up and maintenance of processes on the production floor. The Process Technician will also aid in timely completion of mold set-up activities in addition to other duties.
The Molding Machine Operator I is an entry level position supporting daily production activities at Medbio. This role will provide hands on interaction with machines and molded product to inspect and pack for transfer to the Secondary Department or direct shipment to customers.